A sustainable viticulture
Very environmentally conscious, we are aware that respect for the natural balance is essential. That's why, for the past 10 years, we have been making great strides towards a sustainable viticulture. We intervene in our vineyard with accuracy and moderation and reduce the use of insecticides as much as possible.
We have grassed almost all of our plots and set up zones of sexual confusion in partnership with other winemakers involved in this environmental approach.
In 2016, we received two certifications :
Viticulture Durable en Champagne (VDC)
Haute Valeur Environnementale (HVE-3)
Ladies the ladybug, the spider and the bee, Gentlemen the hare, the snail and the bumblebee, and all the discreet tenants of our vines!
You trusted us!
And thanks to you and our cohabitation efforts. Here we are certified!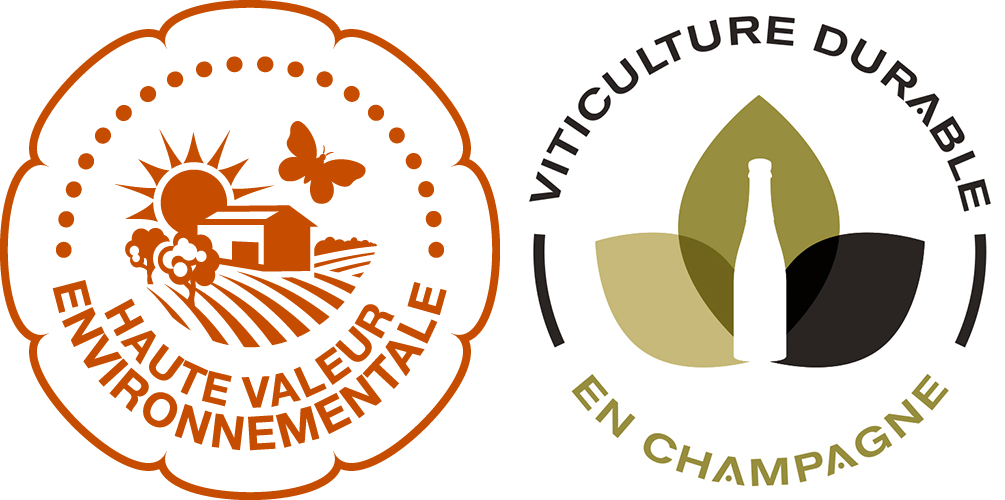 Champagne has always been looking for a particular harmony between grape varieties, terroirs and years. A balance that nature can not offer itself and that would not exist without the intervention of man. It is in the respect of this balance that we have chosen our associates winemakers of the Marne Valley.
We are proud to participate in the promotion, development and promotion of our terroir and our Champagnes, especially during the many events organised by « Champagne et Vous ! ».
In 2020, we invested in soil tillage equipment: inter-rows, claws, … Tillage is an excellent alternative technique to herbicides and is therefore completely part of our philosophy. This project is 40% co-financed by the European Union with the European Agricultural Fund for Rural Development – FEADER.